Sagittarius Compatibility –Sagittarius is the sign of the hunter. A hunter takes its time to stalk its prey and then pounces at the right time. That is the basic personality of this sign, but on the negative side, it can lead to perfectionism and procrastination. Because they are a fire sign, they can come across as being intense, idealistic and extremely passionate. When love walks into the life of a Sagittarius, they fall head over heals easily, especially when given the right attention.
Because of these reasons – Libra, Aquarius, Leo, and Aries are most compatible with a Sagittarius.
Sagittarius compatibility usually has a very hard time with Pisces, Virgo, and Gemini.
Every situation is different though, and it is important that you get a personalized compatibility reading.
A Sagittarian female is very independent and idealistic. She seeks fun and adventure requires a lot of space to do so. While you might want to be lovers with her, it is best to seek her for a fun-loving friendship first. This will giver her a chance to be herself and to show you that not only is she free, but that she can also have ideals that can match your own.
A Sagittarian male is pretty wild when it comes to love and romance. Since the element of the sign is fire, it would make sense why his love would be hot to the touch. Like his female counterpart, he too is very open-minded and free spirited, and so requires room to spread his wings and roam around. In addition, he loves surprises and loves to be loved, but he's not the type to be held onto too tightly or else you might lose him to another understanding soul.
Positive matches for a Sagittarius include a Libra, Aquarius, Leo, and Aries.
Neutrally, they elate to Scorpio, Capricorn, Taurus, and Cancer.
They cannot get along with Pisces, Virgo, and Gemini.
If paired with another Sagittarius, both souls can understand each other but sometimes to the point that it can embarrass since both will mirror each other's souls.
Sagittarius Compatibility Chart: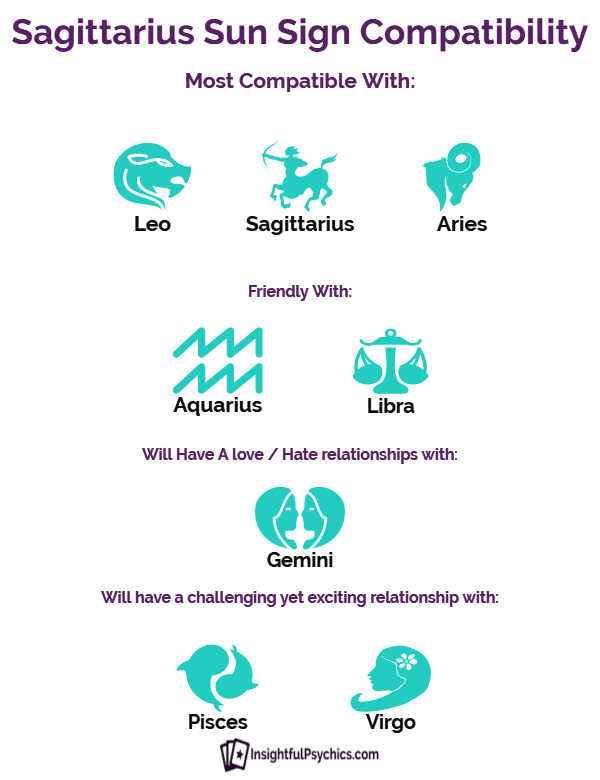 Basic Relationship Traits
Sagittarius compatibility?
They are an adventurous, positive, optimistic, and carefree sign who searches for freedom and is always looking to help a cause.
They are a masculine sign, are rational and don't let their emotions slow them down (they just feel them and move on usually).
This is a sign that is quite averse to thrill, adventure, and new experience.
They are fun to be around and are full of positive energy and joy for life.
Honest Sagittarius
In addition to all this, they are very open about what they feel and what they think.
They are honest and eager and will always speak their mind.
In a relationship this will serve just fine with a partner looking for honesty and open communication in a relationship but a partner looking for mystery and a touch of enigmatic nature in a sign wouldn't find much of it in this sign.
Split Personality
This sign is ruled by the Centaur, an archer.
The half human half horse centaur, represents the split of wisdom of Sag (intellect over deeper matters and meanings of life) and animal passions of Sag (adventurousness and bold nature).
They feel that this is all a part of them, and doesn't obsess over or question this nature.
The truth is that they would rather keep on with it, not worry about it, and continue on with their nature eager to express themselves and explore all the oncoming things life has to offer.
Tolerating Partner
They shoot their arrows straight, and shoot their mouths just as straight.
Again, they are quite truthful known for often telling the painful truth.
their relationships can work if their partner can tolerate an occasional slip by the archer, but otherwise they may have to learn to catch themselves and not say the wrong thing at a wrong moment (sometimes the truth can be too frank and out there for others to handle).
Needs in a Relationship
As a mutable sign, their compatibility is best with someone who has a grounded, steady and heavier and influential personality.
Their partner will need to understand their need for independence, novelty, and variety and will do well if they can be intuitive and understand what the sag means to say when something is said by them that can be easily misinterpreted.
In Conclusion
They will likely be in many relationships throughout their life (although these may tend to be light flings rather than clingy secure relationships, which they tend to dislike).
They are a sign that is willing to experiment with relationships and love.
They may often court different types, from different cultural or social backgrounds.
They enjoy trying something new but at the same time will hate to be tied down hard.
They need physical independence and a partner who will be able to keep things new, fresh, and exciting.
If they can find an honest, loyal partner like this, this sign will be in a blissful, enjoyable relationship , one with strong Sagittarius compatibility and a strong chance at lasting the long run.