Sex with a Scorpio
Best Partners: Scorpio, Pisces, Virgo, Capricorn and Cancer
Scorpio Sex Position: like all of them , your the king or queen!
Scorpio sex drive: Endless
hen it comes to sex, Scorpio is at the top of the food chain. Sexy Scorpio is insatiable, primitive, and overwhelmingly fierce. Scorpio in bed has one goal, to give and receive the greatest pleasure possible. And Scorpio sex uses any means to achieve this result. A Scorpio sex partner should expect mind blowing, out of this world, anything goes sexual dominance from this sign. As a matter of fact, it will probably be the best sex you have ever had.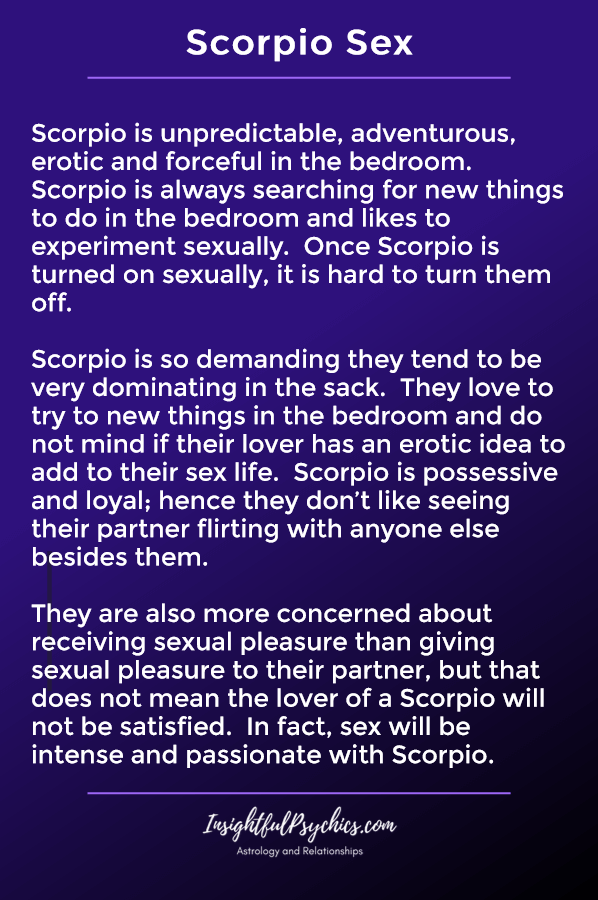 Scorpio Sex Traits:
With regards to Scorpio sex, remember that this sign is known as the Sex God of the Zodiac and can be excessive in his sexual behavior. On the one hand their sexual drive is legendary, and on the other hand they can go completely in the opposite direction and show such self-control that they ignore all their sexual instincts.
When it comes to their sex life, keep in mind that one-night stands hold little interest for the majority of Scorpio men and women. Instead, they seek a relationship so powerful that it transcends reality. With regards to what turns on a male or female of this sign, just remember that they have a hyper natural libido, and they love giving and receiving sensual pleasure. They are consider that variety is the golden rule. Surprise them with different scenarios in bed – this is definitely going to be a nice turn on for them. Regular and intense play is important to them and they like to maintain complete control of the situation. Demanding, and hard to satisfy, it can feel as if a they will go on forever.
They enjoy choreographing the sex scene for mutual satisfaction. They love a partner who can go on forever, so get ready to experience an extraordinary sex life with your scorpion lover. The men and women born under this sign think about sex more than they actually have it. They will fantasize about the dirty talk and play out the details in their imagination. That said, tell them what you are going to do to them long before you walk into the bedroom. Different  positions, oral  and anal sex are great turn-ons for them, as all these are expressions of sexuality. His/her motivation is neither pleasure nor pain, but the power that is unleashed between two people when there is a fearsome intimacy.
How to turn on a Scorpio
Speaking of turn ons, a sexy voice can easily arouse them — whispers during sex, phone fun, or hot talk can all send your  lover to the heights of ecstasy. Because they love to be in charge, bondage and domination games can also be great turn ons for your partner. Some of them enjoy sadomasochistic sex. However, this is the sign that will leave deep scratches on your back. Their will power and enthusiasm simply serve to increase their stamina. Their great sense of self-control makes it unlikely that they'll put up with unsatisfactory fun.
Scorpio Erogenous Zone
Wondering how to arouse them? Keep in mind that their erogenous zone is their genital area. Scorpio natives have the most sensitive sexual organs. A simple touch in that area will turn them into volcanoes. Obviously, Scorpio woman will be highly delighted by cunnilingus, while Scorpio man's great turn on is fellatio.