Virgo Zodiac
The most pessimistic of all the signs and therefore prone to be highly negative in outlook if not balanced by a strong dose of Sagittarius, for example. I know Virgos who are constant worriers, so much so that they worry alarmingly about unlikely situations when there is no sign that the situation is set to occur.
Virgos are extremely analytical, counting every last detail and crossing the Ts and dotting every I. Lists come second nature to these people. Precision is shown in everything to do – and think. Unless the rest of the chart says otherwise, Virgos are conservative by nature and tend to happily remain in the background, observing rather than taking part.
They often become obsessed with their health and fitness, sometimes leading to hypochondria. And their exact neatness and tidiness can become the total opposite – to almost tramp-like proportions – if they have strong negative aspects in their chart.
Like the water sign Pisces, they are at their best when serving others in some way, rather than taking the initiative. They can be very hard on themselves in their constant quest for perfection in everything they do. And they do have a tendency to be a little too critical on others at times, making them unpopular if not checked.
Virgo Dates: (born August 23 – September 22)
Virgo Decans , 1st, 2nd and 3rd
Fast Summary:
Virgo is the sixth sign of the zodiac, and is symbolized by the Virgin, often depicted holding an ear of corn. Virgos symbol or glyph has a fused collection of representations, including the modestly crossed limbs of the virgin, the hymen, three ears of corn, and the letters M and V as standing for Maria Virgo the virgin Mary. The Sun is in Virgo from around 23 August until around 22 September each year. Virgo is classified as being of the negative polarity (passive and receptive), of the earth element (practical, cautious and restrained) and of the mutable quality (adaptable and variable).
Virgo shows an analytical and critical attitude, with an urge for efficiency, perfection and detail. The characteristic Virgo type is critical, discriminating and practical, evaluating life by facts and logic. Virgo must analyse, take to pieces, and sift the minutest details for their significance to the whole. Virgos urge is to grind and separate material into assimilative and digestible particles, so that only the pure essence is left. Hence they are thorough, methodical, conscientious and precise. Virgo often has an interest in hygiene and cleanliness. Virgo is ruled by the planet Mercury, though its tendency is to use Mercurys intellectuality in reserved, modest, practical, down to earth and helpful ways, as technical specialist or researcher, or in the background in service and support. In this way Virgo is in Christian terms akin to the way of Martha as well as to that of Mary. Virgo is orderly and thoughtful, hardworking and conscientious, handling projects with discriminating and painstaking perfection.
This sign can carry its critical attention to detail to extremes however, becoming picky, fussy and sometimes interfering. Overuse of the Virgo manner becomes hypercritical and hypocritical, too fastidious and pedantic, with suppressed emotions and with over-specialisation and needless worrying. There is a danger that the big picture may be missed in an emphasis on orderly neatness and minute details. Virgo can be over-conscious of or even neurotically concerned with matters to do with health, hygiene and cleanliness. Virgos modesty can also become over-expressed in ways that become puritanical or prudish.
Physically it rules the abdomen, the intestines, the spleen and central nervous system. Virgo may have a tendency to intestinal complaints such as appendicitis, ulcers (especially through worrying) and to various nervous disorders. Virgo is especially associated with, or "ruled" by, the planet Mercury.
| | |
| --- | --- |
| Career | Teaching, linguistics, information analysis, financial analysis accountant, engineering |
| Constellation | Virgo |
| Element | Earth |
| Quality | Mutable |
| Domicile | Mercury |
| Detriment | Neptune/Jupiter |
| Exaltation | Mercury |
| Fall | Venus |
| Colors | Navy Blue,Dark Gray, Brown |
| Metal | Mercury |
| Gem | Sardonyx |
| Flower | Small & Colorful |
| Countries | Greece, Turkey,West Indies,Uruguay |
| Cities | Paris, Boston, Heidelberg |
| Animal | Domestic |
| Herbs | Cat's Ear,Crosswort |
| Body Area | Bowels, Intestines |
| Principle | Discernment |
| Keywords | Analytical, Critical, Practical |
| Translation | Arabic: Al Adhrã al Nathifah Anglo-Norman: Pulcele Chinese: She Sang Neu French: Vierge German: Jungfrau Greek: Arista Hebrew: Bethülah Hindu: Kanya Italian: Virgine Persian: Khosha Portuguese: Virgem Spanish: Virgo Turkish: Basak |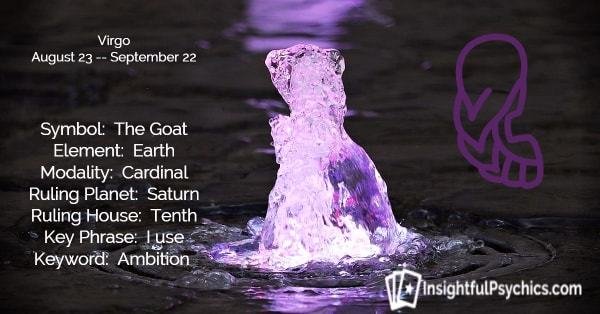 Virgo Zodiac Symbol
The Virgo zodiac symbol represents the only female figure in the zodiac which is representative of the Virgin. This doesnt in any way mean that Virgo people arent sexual.
In fact, Virgos are very sensual people just like their fellow Earth signs of Taurus and Capricorn.
Instead, this implies striving for the purity of body, mind, and spirit by keeping their temple self clean and pure. This means that Virgo people need to ensure that they follow good health practices, think positively, and maintain a consistent spiritual practice to reach their highest potential.
The Virgo zodiac symbol consists of an M with another line crossing through the right leg of the M. This is indicative of the intestines which are ruled by Virgo.
This indicates that Virgo people tend to be excessive worriers and relentless perfectionists who can place a ton of undue stress upon their nervous system and digestive system.
The M also stands for the mastery of the mind due to Virgo being ruled by the sign of Mercury. Virgo people are usually very intelligent and analytical people that are blessed with the gifts of logic, reason, and good old-fashioned common sense.
The only down side to this is that Virgos can get stuck in their mind and really over think certain issues in their life. Therefore, theyre learning to blend logic with intuition to become truly balanced.
All Virgos need to remind themselves that nothing is really ever perfect and adopt the attitude of striving for excellence instead.
The Virgo Zodiac Symbol represents the highest truth for Virgo people.
This truth states that by maintaining an attitude of excellence in all areas of their life, the high standards that they seek will be theirs for the keeping.
Virgo Personality
Virgo stands for work and responsibility, constantly striving for perfection, seeing to all details with an obsession for efficiency. They also have a great need to help the indigent and the sick. Virgos put order in the world. Their deepest need is be useful and productive. They stand for purity and innocence, ejecting all impurities that will cause disorder and unhappiness.
Virgo is an Earth Sign ruled by Mercury which is the planet for rational thought and intellect, giving Virgos their keen analytical ability with an attention to details second to no one. Because they are the second Earth Sign they are dependable and responsible. Having a Mutable quality keeps Virgos matter of fact, precise and very accurate. Their strong points are their sharp mental powers. Virgos are ruled by the Third House, which is the House of Communication, verbal and written, weighing and evaluating all the details and then solving the matter at hand. They are also ruled by the Sixth House which is the House of Compassion and Health. Virgos are very health conscious and with their quiet, reserved and sympathetic nature and inherent understanding of good health, make them great doctors, nurses, healers, etc.
While they are quick with their criticisms and their nitpicking which can drive most people over the wall, they seem to be blind to their own faults, but Virgo innately seeks out order for without order there is confusion and disorder and this Virgo will not tolerate.
Besides putting things in order they have a meticulous love of cleanliness and hygiene. They cannot feel comfortable in a room full of dissaray. It goes against their very nature.
On the whole they are shy and unassuming. their critical and perfectionist outlook can be hard for others to take. Money is very important to them and they don't mind working hard for it, even to the point of putting theirs and their families emotional needs second to work. They have a hard time relaxing and add to that they don't have much of a sense of humor makes it very hard for loved ones to get close to them. They can be quite charming but they lack confidence in themselves. You will never find a Virgo who throws away money carelessly and their fear of growing old and depending upon anyone is why they are so miserly.
In love they are not passionate but they show their love by taking care of their families and loved ones. They don't waste time on impractical romantic gestures. They need partners who are open minded and easy to get along with since with their nitpicking could cause friction.
Virgo Traits

The sixth sign of the zodiac, Virgo, is the organizer, the teacher and the care giver. Your better traits are, your logical thinking, motivation, your problem solving skills are among the best anywhere, modesty, practicality, intelligence, thrift, and your ability to bring out the best in others.
Your negative traits are, making EVERYTHING complicated, overanalyzing, sometimes being hyper-critical, rarely relaxing, and generally being too busy for your own good.
Your ruling planet is Mercury. As a mutable sign, your are adaptable, versatile, and flexible. As an Earth sign, you are stable and practical. Virgo rules the nervous system, and the intestines, and many Virgo?s have too much nervous energy, but they tend to get things done.
Birthstones for astrology are different from traditional birthstones for the months. For Virgo?s, your birthstone is sapphire, and if worn it is supposed to bring tranquillity and protect against illness
Famous Virgo Men/ Famous Virgo Women
Cameron Diaz (b. Aug 30, 1972) ~ Beyonce (b. Sept 4, 1981) ~ Mark Ronson (b. Sept 4, 1975) ~ Salma Hayek (b. Sept 2, 1966) ~ Macauley Culkin (b. Aug 26, 1980) ~ Keanu Reeves (b. Sept 2 1964) ~ Hugh Grant (b. Sept 9, 1960) ~ Adam Sandler (b. Sept 9, 1966) ~ Richard Gere (b. Aug 31, 1949) ~ David Arquette (b. Sept 8, 1971) ~ Carla Gugino (b. Aug 29, 1971) ~ Gloria Estefan (b. Sept 1, 1957) ~ Jason Statham (b. Sept 12, 1972) ~ Mark Harmon (b. Sept 2, 1951) ~ Sean Connery (b. Aug 25, 1930) ~ Michael Jackson (b. Aug 29, 1958) ~ Nicole Ritchie (b. Sept 21, 1981) ~ Guy Ritchie (b. Sept 19, 1968) ~ Marc Anthony (b. Sept 16, 1968)
ADDITIONAL INFORMATION